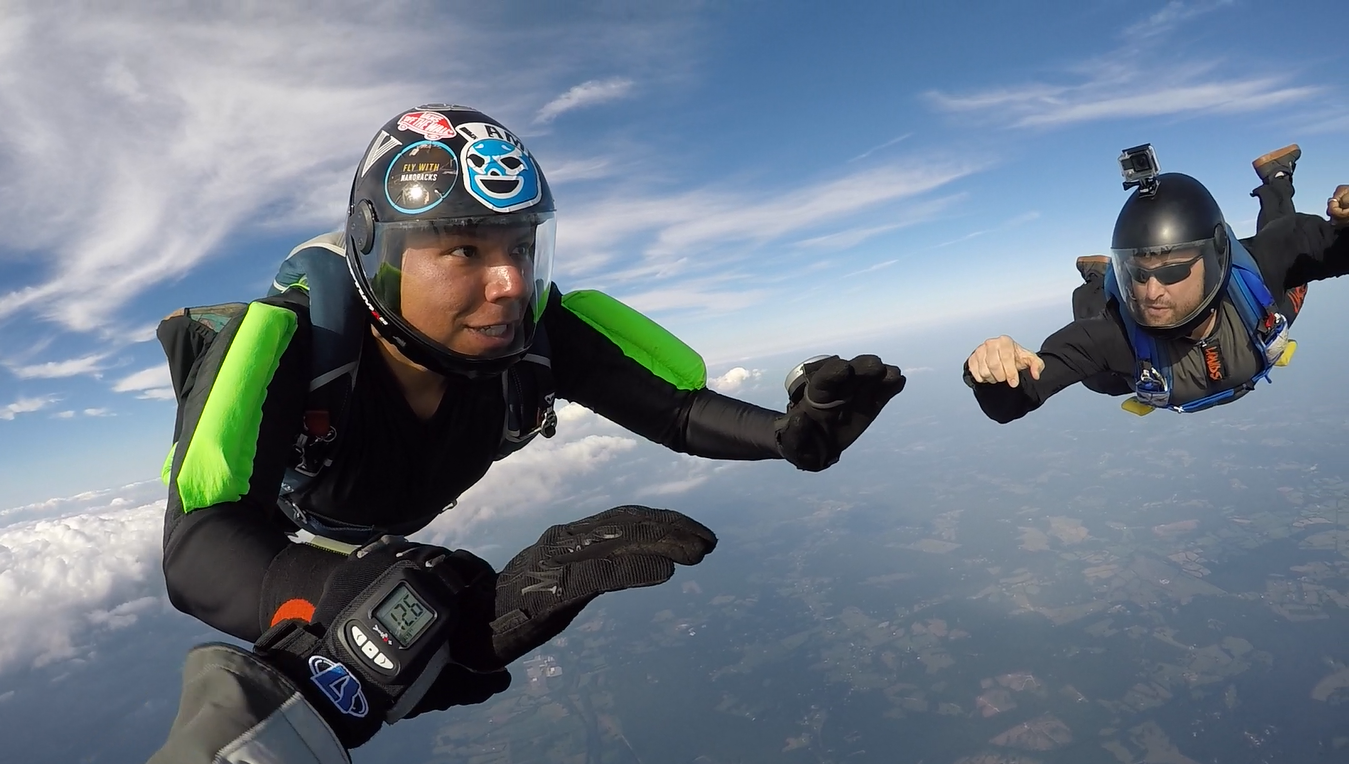 1) What made you decide to start skydiving?
I'm not 100 percent sure. I did my first skydive in 2006 when I was 19. I went with three friends and we all did tandems. We made the drive all the way to San Marcos which was 4.5 hours away. We drove there and back the same day. Since that day, I knew that I wanted to become a licensed skydiver but I didn't have the money or a good facility near me until I moved to the Washington DC area.
I'm not sure why I chose to do that first jump. I think it's because, at the time, skydiving felt life affirming—like a 'live life to the fullest,' do all that there is to do, leave no stone unturned mentality that I had.
2) How long have you been a licensed skydiver?
I got my license from Skydive Orange in October 2016.
3) How many jumps do you have?
Approximately 330-400. Having recently moved to west Africa there aren't too many drop zones that I can easily access.
4) What types of outdoor activities did you enjoy growing up?
My dad grew up as a migrant agricultural worker. He was always moving around and was very acquainted with the outdoors. He would take me to work with him on the weekends and during the summer. Sometimes we'd go to state parks and to national parks for day hikes. We would also go fishing. We did a little bit of hunting as well but I was really a big fan of fishing. Fishing was easy!
Mostly, we'd go cat-fishing in south Texas. It's popular and pretty easy—there's not much to it. You bait the hook and hope you catch something. We would use a set of pliers and gut the fish; then we would dip it in a cornmeal batter and fry it up. Finally, you add a little bit of lemon. And that's about it.
My family is Mexican-American. When I was younger, we would go to Mexico all the time. Most of my mom's family still lives there. One of my uncles is an avid outdoorsman. We would go fishing together: my uncle, my two cousins and I. It's a different setup. You get there in the afternoon, set up a bunch of nets on the tributary of the Rio Grande, camp overnight and pick out all of the fish from the nets. You'd come back with a cooler full of fish that I can't even name.
When I was little, I remember the hard part was avoiding snakes. I was scared of them. You also had to watch out for scorpions. Then there were these thorny little plants like cacti but no higher than your ankles. You had to watch out for those too.
My dad still does a lot of fishing. He only works part time now, so he has a lot more time.
5) What container and parachute are you currently jumping? What was your progression?
I'm currently jumping a Wings 11 container with a Storm 170. Most of my gear is secondhand with the exception of my AAD. Before that I was flying an Infinity rig with a Spectre 190.
6) What do you like best about skydiving?
So many things. I love being able to say that I'm a skydiver! That awe hasn't worn off yet. But really, it's about spending a whole weekend at the drop-zone. You get there in the morning, jump all day, get on sunset load, relax, hang out with friends, sleep in a tent or in the bunk room and get up the next day and do it again. You get to meet people from all walks of life. You have the opportunity to connect with total strangers around this one unusual and really out-of-the-ordinary activity.
7) What does Team Blackstar mean to you?
There's always been this notion that there are certain activities that only white people do. I really find it annoying to see that mentality within communities of color. I've seen it in the Black community and in the Mexican-American community. In addition to skydiving, I also snowboard. You don't see too much diversity on the slopes or in skydiving. For me, Team Blackstar is a rejection of the mentality that certain activities are only for certain people. I think Team Blackstar is an effort to make that mentality obsolete. After all, you cannot be what you cannot see.
We provide a little familiarity, a little comfort. Hopefully, others will see us and think 'this is something that CAN be for me!'
8) What does your family think of your decision to start skydiving?
My mom thought I was a little bit crazy. She was being protective of her only child. She was not too happy about it but she's still very supportive. She's watched me skydive when I went to visit them in Texas. I took my parents to Skydive San Marcos—where it all began 13 years ago. They said it was pretty cool. I've tried to talk them into doing tandems but they aren't about that.
9) What was the scariest thing you've ever done as a skydiver?
In the summer of 2017, I had maybe 100 jumps. That summer I was invited to participate in a big, complicated 16 way that an organizer had put together. It did not go as planned. There were people high and people low and all over the place. Break off was messy. I probably should've spoken before the jump to say that I'm not comfortable with this, but I didn't. Everyone landed safely but, honestly, I hadn't been that scared since learning to skydive.
There was one other time when I pulled my parachute and, unexpectedly, opened up very close to another jumper. I can't remember if they had left the plane before or after us. Either way, the separation time between our groups was insufficient so that when I tracked away at break-off, my canopy opened up very close to one other individual. I immediately had to jump on my rear risers and slipped away. It was scary but not a prolonged scary.
10) What is the most challenging thing you've ever done as a skydiver?
Definitely getting my coach rating is the most challenging thing I've ever done as a skydiver. I got my coach rating on July 4, 2017. It was challenging for many reasons. One is that the examiners are all local folks. They all know you. My examiners for both the classroom portion and the hands-on portion were either my former AFF instructor or a former AFF coach. It was a little bit daunting to have to perform in front of someone that saw you on day one and who has been skydiving for much longer than you. You have to remember that they want you to do well. They're not going to pencil whip the paperwork, they're going to hold you to a strict standard. After I got my first evaluation jump out of the way the second one was a little bit easier.
The idea of getting a coach rating and being able to teach new skydivers, felt very challenging. The course takes place over a weekend. It was originally supposed to be three days but we had a few people cancel so with fewer people we were able to get it done in two days. The first day included the in-briefing and the basics of being a coach. The second day was for evaluations. First, we were evaluated on our briefing skills. We taught lessons on a single AFF category, either F or H. Next, we did two jumps with examiners who were role-playing as students. The main difference between a skydiving coach and a skydiving instructor is that a coach is not responsible for saving a students life. To emphasize this, the examiner would role-play losing altitude awareness at break-off. We'd give them the signal to check their altimeter and if they were still distracted, we'd track away (another signal for them to pull their parachute). After each evaluation jump, we were tested on our debriefing skills. Overall, it was a challenging course.
11) Have you had any cutaways? How many?
Fortunately, I have not. I will say this: about a month after I earned my coach rating, one of my students had a cutaway. Her canopy opened without incident but as she went to unstow her toggles, one got stuck. So she had what we call a "brake fire." The toggles are attached to brake lines which allow us to steer the canopy. They're normally stowed by routing them through a cat-eye in the brake-line and tucking them into a pocket located on the riser. When one brake-line gets stuck, or one brake-line comes loose early it sets the canopy into a spin. It's not a major malfunction but you have to fix it or decide to cutaway above your decision altitude. She executed her emergency procedures, cut away her main canopy and landed safely under her reserve. Afterwards, we walked around the woods until we found her canopy.
12) What type of skydiving do you enjoy?
I really enjoy coaching. My former drop-zone, Skydive Orange has an initiative called New Kids on the Block (NKOB). The program is designed to pair skydivers with less than 100 jumps with one or two experienced jumpers. I like that you can get advice for free and that it's a low stress environment. Unlike getting your license where there's more pressure, the NKOB program is more relaxed. Newly licensed skydivers can work on specific goals or take a break, go do a fun jump and come back.
13) What are your goals in the sport?
I'd like to get into free-flying. It's something I haven't devoted much time to yet but I'd definitely like to start free-flying. Overall, I'd like to work towards my D license and obtain an AFF-I rating.
LEARN MORE ABOUT OUR OTHER MEMBERS!